Introducing the Juniper
If a timeless classic with contemporary touches sounds your thing then you'll love the Juniper, the latest lodge in our Botanical Collection. With a large range of options, this luxury lodge will give you exactly the lifestyle you are looking for.
The Juniper should be the first choice for outdoor enthusiasts and pet owners. It has a huge separate entrance hallway and the flexibility to change one of the rooms into a utility with a back door. Just think no more worries about mucky pups and muddy bike tyres.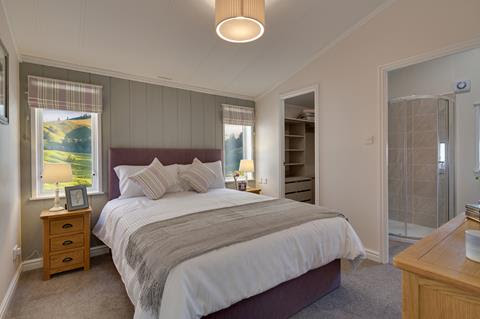 More of a bookworm? Then bring the outside in as you can choose as many as four bi-fold doors to maximise your views. You can even change one of the rooms into a study so working from your lodge or learning a new hobby might not be a distant dream.
It's also a lodge for families. Make that third room a bedroom and if you really want, we can adapt your lodge into four bedrooms. The hardest part is choosing what you want.
But soon, very soon, you'll be sitting back and relaxing in the Juniper. It's yours.
Third room
We know that everyone has different needs when on holiday so tasked the designers at Willerby to create some flexibility. They really listened and so now you can choose to reconfigure the third room.
Unique door placement
The whole front of the Juniper can be reconfigured to suit your needs and lifestyle. With one bi-fold door and three large windows at the front of your lodge as standard, you can choose to add up to another three doors!
Wheelchair friendly
You can easily make some minor adaptions without making any structural changes. We can fit a wheelchair friendly bathroom and then we already have wide doors and hallways throughout giving a real sense of spaciousness without compromising on style.
Oslo Wall System™
You might wonder why we've got so excited about our new wall system.
First of all, it looks nice. Secondly, the interior finish is very different to normal plasterboard as its super strong. You don't need to worry about where the joists are to drill into (just check for electric cables!) or use a rawlplug to keep in the nail or screw. Our new board can hold up to 40kg in weight from one hook – that means you could put a bracket on the wall and put your bike on it! How tidy is that?
And lastly, it also can be painted over and over again or be wall-papered if you're a budding Laurence Llewelyn-Bowen.